Project ALPHA
Project ALPHA: Musical Cinematic Sound Design.
- Over 2.3 Gigabytes of Hybrid Musical Sound Design
- Over 200 Kontakt Patches (Requires Full Version Of Kontakt 5.1+)
- Flexible UI script allowing for creative patch customization
- Created By renowned sound designers
Daniel James and Aaron Frensley
- Open Wave File Format allowing for easy drag and drop into your projects
You will be directed to our secure store front hosted by Fast Spring.
Project ALPHA is an intuitive and powerful hybrid musical sound design sample library aimed primarily at Film, Tv, Video Game and media composers.
The library has been designed to effortlessly layer in with your workflow, allowing you to load in a few patches or drag in the open wave files to give your tracks that modern hybrid sound.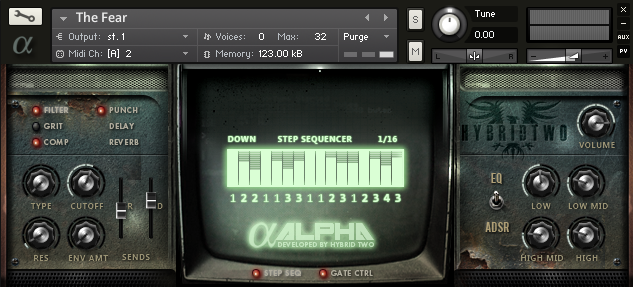 Based around a custom Native Instruments Kontakt 5 script, Project ALPHA allows for quick and easy customization of  any of the libraries patches.
You have the ability to add and manipulate a range of FX at the click of a button. You have the option to easily EQ out unwanted frequencies or adjust the Amp or Filter ADSR right on the front panel of the UI, allowing for 'synth like' patch creation.
Also built into the custom script is the ability to take any of the sounds and run them through a fully flexible step sequencer, allowing for custom ositnatos and rhythms using any of the samples found in the library. You can adjust which key in a chord will play at each step allowing you to quickly tweak a sound to your liking, set your rhythm and step sequencer notes and hold down a chord, allowing you to focus on the creation of your music and not programing in each note by hand.
With all these powerful customization tools you truly have the ability to customize patches beyond recognition and keep the samples sounding unique and fresh for much longer.
The Category of sounds featured in the library is as follows:
Impacts
Booms
Whooshbangs
Risers
Downers
Braaaams
Drones
Reverse FX
Multisampled Instruments
Tempo Sync'd Rhythms
Synth ARPS
Synth Pads
Synth Bass
Requirements:
Full Version of NI Kontakt 5.1 (Project ALPHA will not work in the free Kontakt Player)
2.5GB Hard Drive Space
Internet Connection For Product Download
PC/Mac with at least 2.0Ghz processor
2gb+ RAM
Please make sure to read and agree with the terms of the End User License Agreement BEFORE making your purchase!
The EULA and User Guide can be downloaded here:  http://www.hybridtwo.com/Files/Alpha%20User%20Guide%20and%20EULA.pdf
$199
(Price excl. VAT)
You will be directed to our secure store front hosted by Fast Spring.
Product Demos:
No comments yet.
No trackbacks yet.