Project Alpha
Project Alpha
Musical Cinematic Sound Design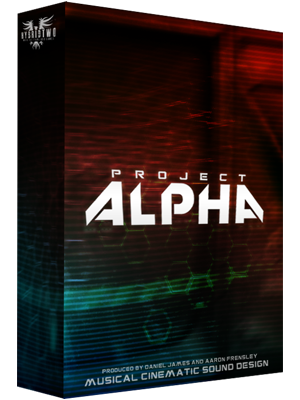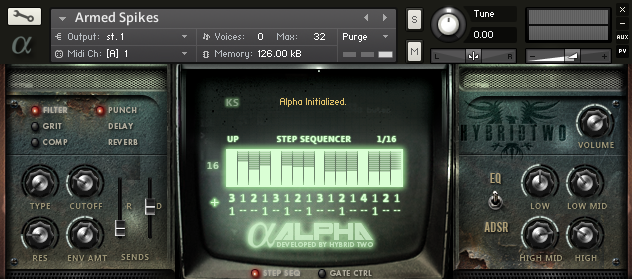 Over 2.3 gigabytes of sample content
200+ Kontakt patches (Requires full version of Kontakt 5.7+)
Scripted GUI allows effortless customization
Ostinato-style Step Sequencer with dual notes per step
Gate Sequencer
Created by renowned sound designers Daniel James and Aaron Frensley
Open Wave Format allows easy drag and drop of all sample content into your DAW
Project Alpha is an intuitive and powerful hybrid musical sound design sample library aimed primarily at film, TV, video game and media composers. The library has been designed to effortlessly layer in with your workflow, allowing you to load in a few patches or drag in the open wave files to give your tracks that modern hybrid sound.
Based around a custom Native Instruments Kontakt 5 script, Project Alpha allows for quick and easy customization of any of the libraries patches. You have the ability to add and manipulate a range of FX at the click of a button, as well as the option to easily EQ out unwanted frequencies or adjust the amp and filter ADSR. All of this is laid out on a single synth-like front panel, making it very fast to pick up and start tweaking.
Also built into the custom GUI is a flexible ostinato-style step sequencer and gate sequencer allowing you to easily turn any of the library's sounds into a rhythmic sequence.
Sound categories include Impacts, Booms, Whooshbangs, Risers, Downers, Brams, Drones, Reverse FX, Multisamples (Percussive and Melodic), Tempo Synced Rhthyms, Synth Arps, Synth Pads and Synth Basses.
As a library of WAV files aimed at film, TV, video game and media composers, it serves its purpose well, but the interface transforms the library into a very powerful sound-creation tool that is hard to fault.
– Sound On Sound
Overall, Project ALPHA is an excellent first offering from Hybrid Two, demonstrating an enviable knack at creating powerful cinematic effects.
– Music Tech
I think anyone looking for the type of sound that this library offers will find exactly what they are looking for and more.
– Sounds And Gear
Only available for direct download. No refunds.
Read the User Guide Here
System Requirements
Full Version of NI Kontakt 5.7 (Project Alpha will NOT work in the free Kontakt Player)
2.5GB Hard Drive Space (5GB for Bundle)
Internet Connection For Product Download
PC/Mac with at least 2.0Ghz processor
2gb+ RAM